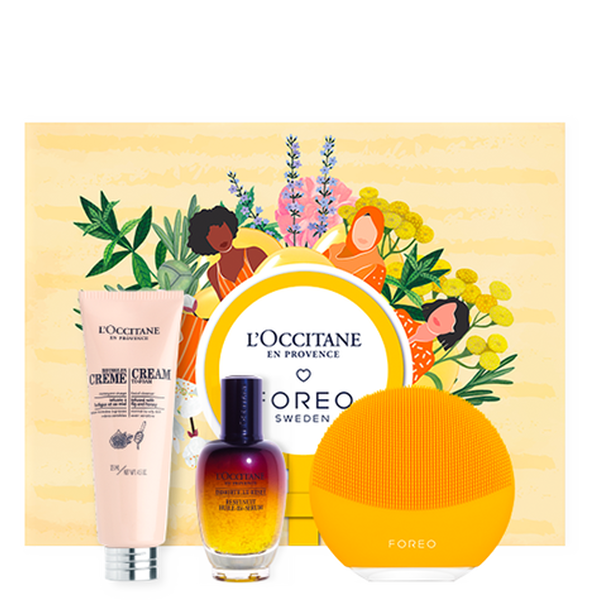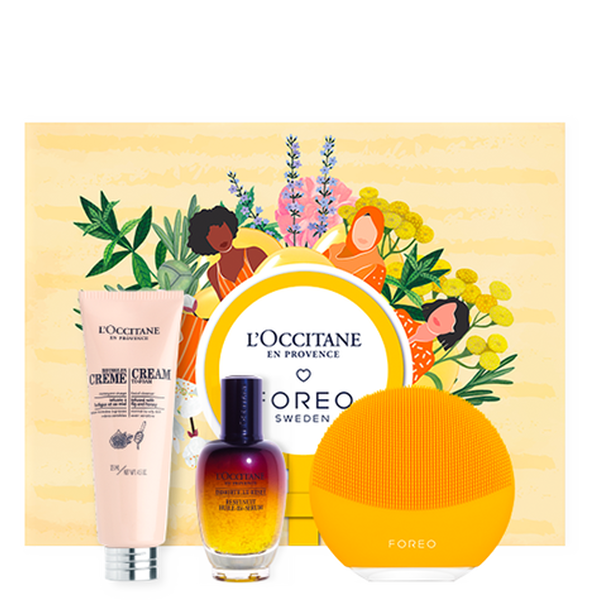 Foreo x L'Occitane - Overnight Skincare Routine
Together in one box, L'Occitane and FOREO are connecting the power of nature with the power of technology to empower women to feel more confident with their natural beauty.
799 AED
Valued At

1154 AED
Description
Who doesn't want a kit that is made to deep cleanse and revitalize for perfect looking skin? FOREO x L'Occitane sets are made for YOU!

The best of nature and the best of technology came together to create a perfect routine for all skin types. For you, who truly believe in the shift towards clean and green beauty solutions – we are here. We believe women are naturally beautiful, we believe in YOU, the Powerful YOU, the Natural YOU – you are the strength of the rising women.

This kit includes:

Reset Serum 30ml
Cream to foam facial 125ml
LUNA™mini 3

Tip
Download the "FOREO For You" app on your phone and follow the instructions to unlock and register your LUNA™ mini 3.
Splash your face and your device with water and apply the Cream-to-Foam Facial Cleanser on the LUNA mini 3.
Glide LUNA™ mini 3 in circular motions over your face for one minute.
When you're done, rinse and gently pat your face dry.
Apply a pea-size amount of Immortelle Reset Serum to freshly cleansed skin.
Featured Ingredients
Reset serum - Made with 92% natural origin ingredients, the texture of this overnight antioxidant serum is a light water-gel, infused with: Patented immortelle sap-like extract, soothes the skin from redness and tightness, as well as boosts its recovery. Marjoram, known to help activate gene expression functions that have become dormant due to natural ageing;

Cream to foam facial - Infused with soothing organic fig and protecting honey from Provence, it envelops skin in a cocoon of softness and leaves it feeling soft, supple and refreshed.